Principled Technologies Finds That Choosing a Dell EMC PowerEdge R740xd Server Using Toshiba SAS SSDs Can Help Companies Meet Increasing Database Demand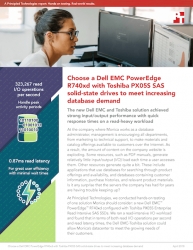 Durham, NC, June 08, 2018 –(PR.com)– Many companies use databases to store information on product offerings and availability as well as customer data, purchase histories, and relevant product materials. The applications that customers and internal users rely on to access this data can tax a company's datacenter resources, which can lengthen wait times. This is problematic because users have come to expect near-immediate responses to their input. Companies can avoid this problem by choosing database servers that can handle a growing number of transactions while keeping response times fast.
In hands-on testing, PT found that not only could the new Dell EMC PowerEdge R740xd with Toshiba PX05S Enterprise Read Intensive SAS SSDs handle peak activity periods – delivering over 320,000 I/O operations per second – it also provided low read latencies, which translate into minimal wait times. According to the report, "Whether customers are scouring the site researching for an upcoming purchase or trying to troubleshoot problems with a product they already own, the Dell EMC and Toshiba solution is positioned to give them what they need quickly."
To learn more about how this PowerEdge server and SAS SSD combination can provide the boost many struggling datacenters need, read the full report at http://facts.pt/5gumfP.
Contact Information:
Principled Technologies, Inc.
Natasha Simmons
704-712-1115
Contact via Email
http://www.principledtechnologies.com/
Read the full story here: https://www.pr.com/press-release/735048
Press Release Distributed by PR.com