Principled Technologies Proof-of-Concept Study Measured VM Density on a Microsoft Storage Spaces Direct Solution Powered by the AMD EPYC 7601 Processor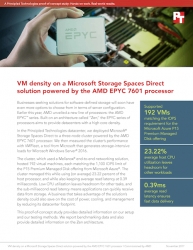 Durham, NC, November 29, 2017 –(PR.com)– A software-defined storage (SDS) solution can help businesses save on operations and administrative costs compared to a traditional, array-based architecture. Principled Technologies (PT) tested an SDS solution that used Microsoft Storage Spaces Direct with servers powered by the AMD EPYC 7601 processor. Based on the AMD "Zen" architecture, the EPYC series of processors aims to provide datacenters with a high core density. PT tests found that the server cluster supported 192 VMs, which could enable businesses to reduce their datacenter footprint and save on power and cooling costs.
According to the report, "the server cluster delivered up to 192 VMs with the performance of the Azure P15 Premium Managed Disk, while keeping average host CPU utilization under 24 percent and average read latency under 0.4 milliseconds."
To learn more about how the AMD EPYC 7601 can help support a dense cloud environment, read the full proof-of-concept study at http://facts.pt/RE4nWj and see the infographic at http://facts.pt/sFeGVB.
About Principled Technologies, Inc.
Principled Technologies, Inc. is the leading provider of technology marketing and learning & development services.
Principled Technologies, Inc. is located in Durham, North Carolina, USA. For more information, please visit www.principledtechnologies.com.
Chloe Rockow Madsen
Principled Technologies, Inc.
1007 Slater Road, Suite #300
Durham, NC 27703
[email protected]
Contact Information:
Principled Technologies, Inc.
Chloe Rockow Madsen
(919) 941-9812
Contact via Email
http://www.principledtechnologies.com/
Read the full story here: https://www.pr.com/press-release/734981
Press Release Distributed by PR.com